Keyword task alerts provide instant notifications for tasks that match a keyword or phrase of your choosing. You can further customize your alerts with location information to to determine how far you're wiling to travel for different kinds of tasks. These alerts are an excellent way to save time and be first in line to make offers on the tasks you're truly interested in.
Step 1 - Enable keyword task alerts in your notification settings
Log into your Airtasker account

Select

Settings

Select Notification settings
Make sure the push checkbox for Keyword Task Alert is checked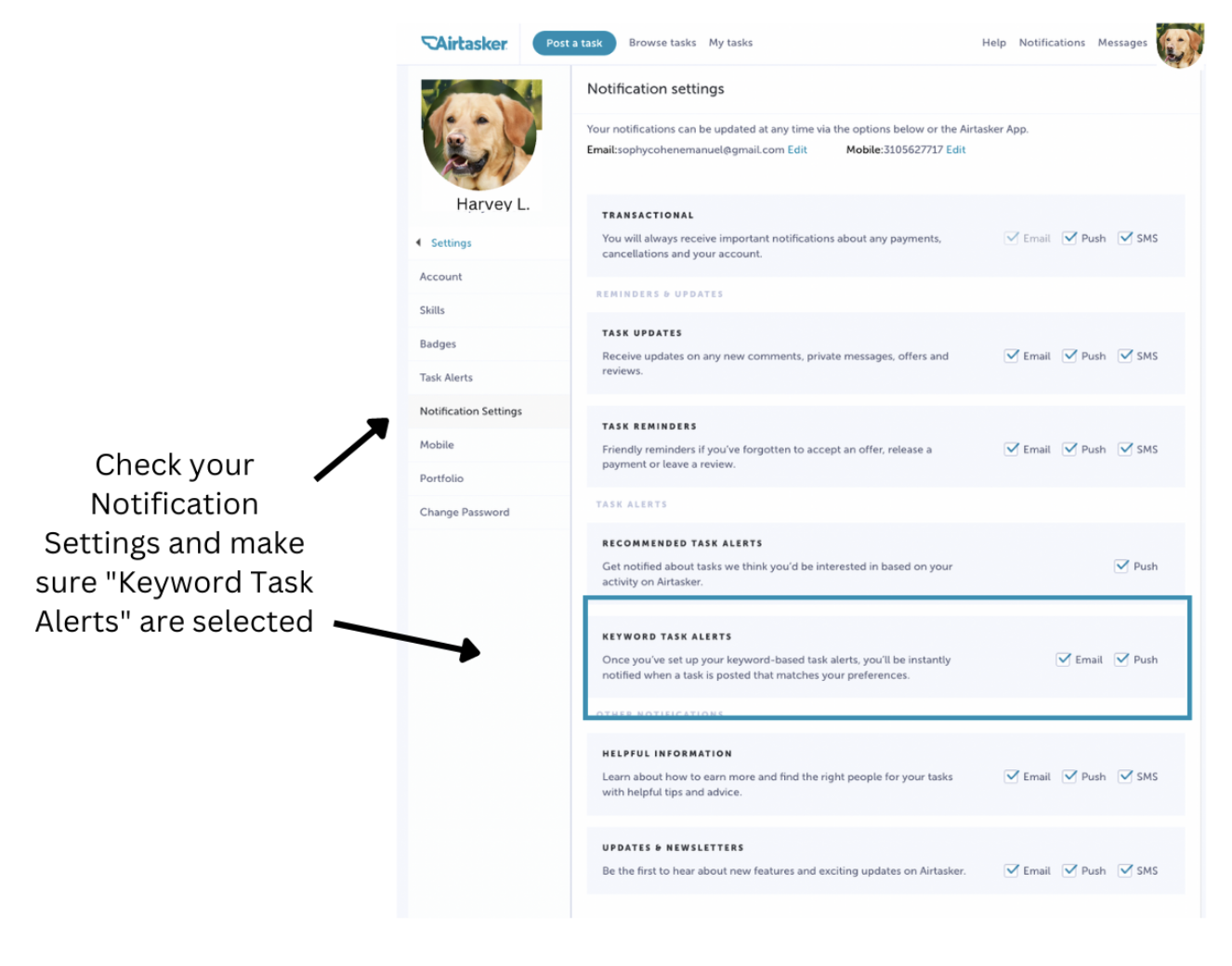 Step 2 - Set up individual keyword task alerts
Log into your Airtasker account

Select

Settings

Select

Task alerts

Click "Add keyword based tasks"
Select your location settings and the distance you're willing to travel to complete a task with this keyword (tip: In-person tasks will be posted by people in your community, while Remote tasks will be posted by people all over the US)
Enter your keyword or phrase (see our list of recommendations by category below). You will need to create a unique keyword task alert for each keyword or phrase you're interested in.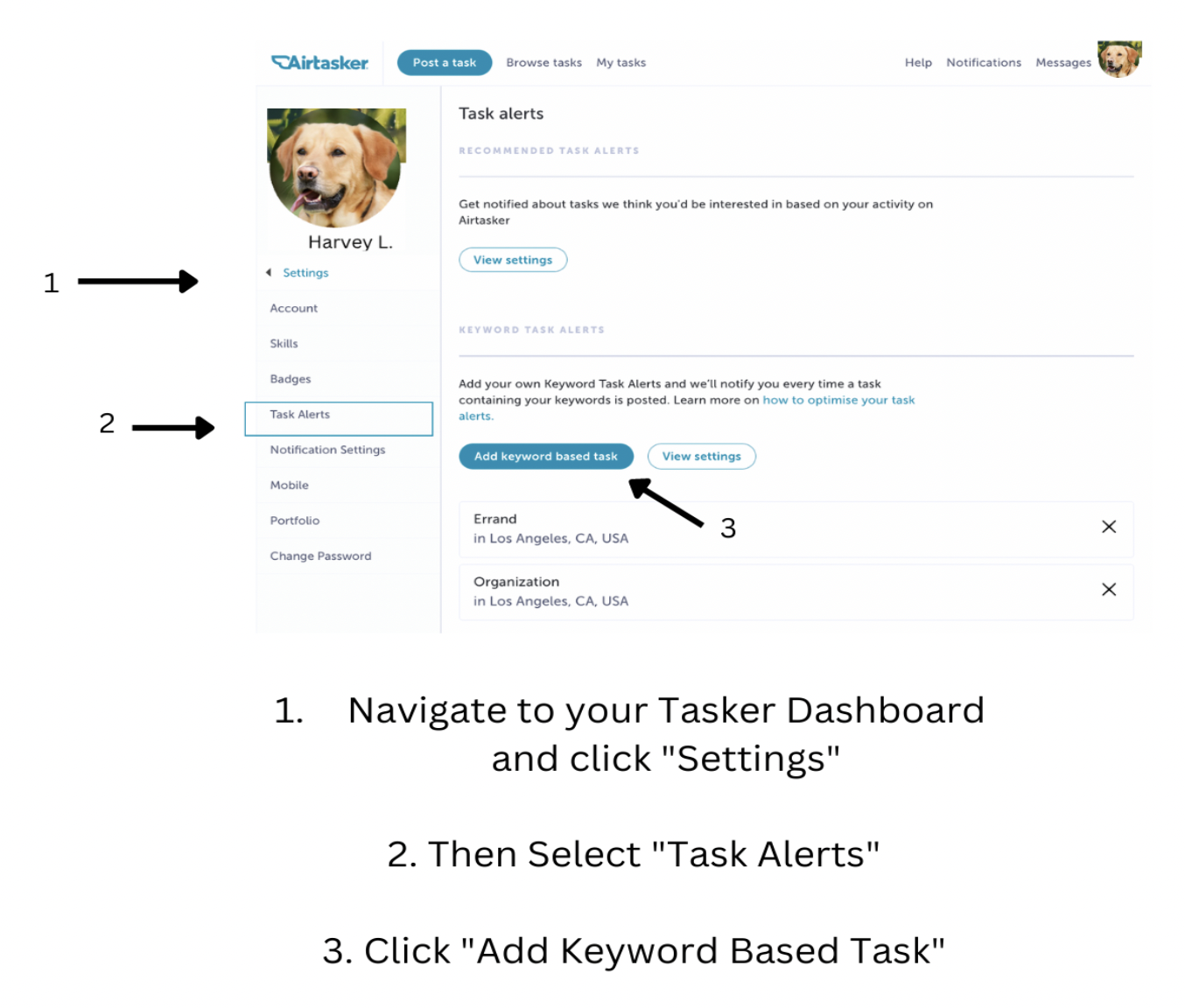 Which keywords should I choose?
Keyword task alerts are matched based on the task title OR the task description, so the more specific you are with your keywords, the more precise the notifications will be.
Precise examples include 'small hedge trimming', 'Squarespace website development' or 'IKEA furniture assembly'. These keywords are useful if you only want to see a narrow range of tasks.
If you would like a broader range of tasks sent to you, you can be vaguer with your keywords. Broad keywords include 'gardening', 'painting' or 'photography'. The vaguer you are with your keywords, the greater variety of tasks you'll see.
Keyword and phrase examples by Task Category
Carpentry
Carpenter
Carpentry
Wood
Metal
Shed
Cabinet
Drawer
Dresser
Shelves
Closet
Table
Chipped
Build
Built
Custom Built
Build Custom
Install
Assemble
Assembly
Repair
Replace
Fix
Real task examples:
Small Carpentry Projects
Shed Assembly
Wooden Table Repair
Shed Build Up
Build Custom Reptile Enclosure
Need Foyer Cabinet
Wooden Bed Rail Repair
Cracked Wood Table

Data Entry / Processing / eCommerce Listing

eBay
Poshmark
Excel
Word
PC
Computer
Item
Items
Manuscript
Gaming
Game
Online
Selling
Listing
Post
Entry
Enter
Setup
Assist
Real task examples:
Sell items for me on eBay
A manuscript typed
Looking for eBay seller
Selling items online
Excel Word Mail Merge
Ebay Product Listing

Electric Wiring

Electrical
Electric
Electrician
Ring
Alarm
Doorbell
Dash Cam
Dashcam
Nest
Stereo
Lightbar
LED
Install
Repair
Light
Power
Wiring
Wired
Real task examples:
Dash Camera Installation
Install Projector and Screen
Help Install my Car Stereo
Ring Doorbell 2nd generation install
LED light bar install
Install halo LED highlights
Wire replace
Nest thermostat installation
Electrical Problem

Gardening/Lawn Mowing

Lawn
Grass
Yard
Garden
Weed
Flower
Plant
Plants
Hedge
Backyard
Sprinkler
Dirt
Soil
Leaf
Maintenance
Weeding
Gardening
Gardener
Landscaping
Mowing
Mow
Removal
Trimming
Planting
Real task examples:
Lawn Care Clean Up Services
Plant Flowers. Maintaining landscaping
Backyard needs weeds taken out
Water plants
Approximately 150 feet of hedge to be trimmed
Rain Dial is not working
Gardener needed 1x every other week

General Handyperson

Handyman
Handymen
General
Furniture
Bed
Bed Frame
Table
Door
Doorbell
Doors
Wall
TV
Mirror
Chair
Desk
Dresser
Recliner
Dishwasher
Bookcase
Treadmill
Trampoline
Bike
Bicycle
Gym
Camera
Washer
Dryer
Motor
Attic
Nest
Sonos
Ring
Ikea
Fence Stairs
Repair
Replace
Replacement
Assemble
Assembly
Disassemble
Install
Installed
Installation
System
Fix
Window
Build
Built
Mount
Replaced
Hang
Hanging
Real task examples:
Handyman to fix broken door knob
Repair Dry Wall
Fix Doorframe
In Ground Basketball Hoop Installed
Bike Assembly
Trampoline Assembly
Assemble Chair
Build a desk
I need help mounting a TV
A bunk bed to be put together
Build Ikea kitchen cabinets
Need 2 of the 3 drawer dressers built
Install Ring Alarm
Electric Recliner mechanism repair
Repair dishwasher

Hardware/Software/Network Support

PC
HDMI
Network
Gaming
Computer
Parts
Built
Sonos
Wifi
Ring doorbell
Build
Built
Building
Install
Installed
Installation
Setup
Repair
Assembly
Assemble
Assembling
Disassemble
Fix
Cable
Finish
Connect
Real task examples:
Secure Home Network
HDMI Port Replaced
TV connection repair
Help Build Gaming PC
PC Assembly
Build a PC
Install Ethernet/Data Cable


Home Help

Home
House
Apartment
Bath
Bed
Couch
Rug
Curtain
Refrigerator
Oven
Kitchen
Floor
Carpet
Carpets
Room
Clothes
Meal Prep
Airbnb
Short Term Rental
Rental
Closet
Shower
Laundry
Iron
Office
Groceries
Gifts Wrapped
Clean
Deep Clean
Organize
Organizing
Declutter
Prep
Cook
Move
Moving
Bookkeeping
Real task examples:
Organizing Office, filing, bookkeeping
Need someone to help with groceries
Kitchen cleanup and organize
Meal Prep to help with time
Airbnb Rental Cleaning
Deep Clean Oven
Cleaner needed
Wash and Fold
Clothes Ironed
Christmas Gift Wrapped
Couch deep cleaning
Clean out my closets


Hospitality Services

Party
Birthday
Anniversary
Dinner
Wedding
Bar Mitzvah
Bat Mitzvah
Quinceanera
Private Event
Event
Cocktail Party
Cocktails
Cocktail
Dishes
Kids
Children
Entertain
Entertainment
Setup
Photographer
Decorate
Theme
Cleaning
Clean Up
Cleanup
Help
Helper
Serving
Server
Serve
Private Chef
Chef
Catering
Bartender
Bartending
Real task examples:
Kids Party Hosts
Private Party, 10 guests, help with serving and clean-up
Private chef for a family dinner party
Food cooked
After party cleanup
Decorate House
Bartending
Event Helper


Mechanic

Mechanic
Mechanical
Car
Truck
RV
Auto
Tire
Ebike
Motorcycle
Battery
Lights
LED
Electric
Electrical
Stereo
Timing Belt
Alternator
Brakes
Window
Dash Cam
Diagnostic inspection
Rear
Wiring
Keyless
Oil
Install
Installation
Installed
Repair
Replace
replacement
Fix
Real task examples:
Car Audio Amplifier Repair
Fix Parking sensor problem
New Timing Belt
Help install my car stereo
Rear flat tire repair
Under-glow for car
Fix headliner in car
Alternator Replacement
Dash cam installation
Electric Bike Repair
Car Keyless Entry
Examine my motorcycle


Moving/ Junk Removal

Furniture
Sofa
Bed
Table
Treadmill
Nordic
Mattress
Couch
Apartment
House
Home
Boxes
Storage
Garage
Cardboard
Cardboard
Move
Moving
Moved
Storage
Pick Up
Pickup
Haul
Deliver
Disassemble
Remove
Junk
Removal
Junk Removal
Real task examples:
Clear old Junk
Move my couch
Pack up Bedroom for Move
Sort/Pack Boxes & Furniture
Moving house
Sell stuff in storage
Moving and taking bed down


Painting & Painting Services

Painter
Wall
Walls
Interior
Exterior
Ceiling
Home
House
Room
Doors
Bathroom
Bedroom
Drywall
Holes
Graffiti
Garage
Kitchen
Brick
Fence
Paint
Painting
Repair
Patch
Real task examples:
Painting outdoor stairs/trim
Paint my dining room
Paint Job
Graffiti Removal
Patch holes, paint, repair dry wall
Paint cars
Paint Kitchen and cabinet and wall


Pet Care

Fish Tank
Fish
Aquarium
Saltwater
Cat
Kitten
Dog
Puppy
Bearded Dragon
Lizard
Guinea Pig
Hamster
Turtle
Bird
Birds
Pet
Litter
Training
Nail
Pet Sitter
Dog Sitter
Walker
Sitter
Grooming
Groom
Cat Training
Dog Training
Train
Boarding
Board
Real task examples:
Dog Nail Trim
Clean my Fishtank
Board and care for a month and a half
Pet Grooming
Cat trainer
Help Cats get along
Looking for puppy training
Bearded dragon sitter
Take care of my birds


Pick Up & Delivery

Cake
Wedding cake
Food
Catering
Package
Store
Item
UPS
FedEx
Amazon
Courier
Grocery
Groceries
Mail
Flowers
Pick Up
Pickup
Drop
Drop off
Deliver
Delivery
Delivering
Delivered
Ship
Shipping
Order
Purchase
Mail
Post
Real task examples:
Deliver Package
Wedding Cake Delivery
Store pickup and ship
Pick up Sofa at Ikea
Balloon Delivery


Sewing/ Clothing Repair

Seamstress
Tailor
Dress
Jacket
Zipper
Pants
Sleeve
Wedding dress
Leather
Fabric
Clothes
Sew
Sewing
Fix
Hem
Cut
Cutting
Repair
Replace
Alterations
Alter
Shorten
handmade
Tailored
Tailor
Costume
Fashion
Real task examples:
Replace zipper on ski jacket
Alterations and steaming
Pants hemmed
Mend clothes
Wedding dress alteration
Measurements
Shirt buttons
Blazer alterations


Water Plumber

Plumber
Plumbing
Water line
Bathroom
Toilet
Sink
Faucet
Shower
Fridge
Refrigerator
Water tank
Leaking
Leak
Washer
Dryer
Drain
Repair
Replace
Replacement
Install
Installed
Installation
Fix
Real task examples:
Fridge water line installation
Fix leaky shower
Underground drainage system clogged
Help with water maintenance
Repair dishwasher