The booking fee is a small fee charged to Posters when assigning a Tasker. This is not related to the Tasker service fee and Posters will only be charged upon assigning the task.
To help you understand the booking fee, we've put together a list of FAQ. Here you'll find:
Why charge a booking fee?
The booking fee helps us cover the costs of keeping the platform running and enables us to invest in the new tools and features to fulfil our mission of enabling Taskers to realise the full value of their skills.
How much is the booking fee?
The booking fee is a small fee charged to Posters when the task is assigned and includes GST. The maximum charge is $24.90, which is only for higher value tasks.
Where can I view my fee?
You will be shown a breakdown of the fees with a total charge when you assign the task. It should look like this: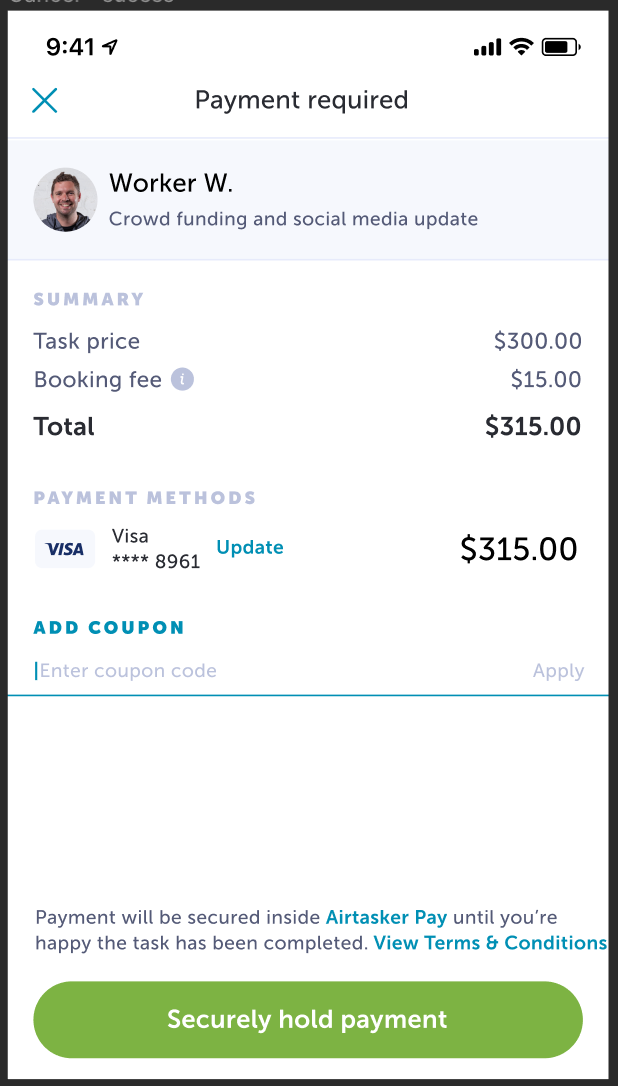 Task price: is the amount offered to you by the Tasker.

Booking fee: a fixed rate and does not change after the task is assigned. This also includes GST.

Total charge: the total amount that will be deducted from your bank once you click

Securely hold payment.
Note that this is also the page where you can also apply your coupons. To do this:
Click on 'Add Coupon' and enter your Airtasker Coupon

Hit 'Apply' to receive your discount.
The task price will be adjusted accordingly once the coupon is successfully applied.
Will I be charged an additional fee if I change the price or give my Tasker a bonus?
The booking fee is fixed to the amount shown to you when it was assigned. This means you will not be charged extra if you change the task price or give your Tasker a bonus.
What happens if I cancel the task?
After you're done cancelling the task, your payment may be returned to you as Airtasker credit. This means that your credit can be immediately used on your next task and can also be refunded to your nominated bank upon request.
While logged into your account, you can check your credits by visiting this link.
Can I get a tax receipt for the booking fee?
To get a tax receipt for just the booking fee component of your payment, follow the steps below:
Go to the task

Click More options
Choose Task Receipt
------------------------------------------------------------------------------------
Ready to post a task? You can start by clicking
here
. Or check out our
Help Centre here
for more articles on how to post your task.