We're about to launch an exciting new fee structure called "tiered pricing". In a nutshell, the structure will see that the more you earn through Airtasker, the less you pay in fees. We figure it's a fair way to reward people doing the bulk of their work through Airtasker.
Tiered pricing means that the service fee is no longer a set percentage – instead, it has 4 levels (or "tiers") that lower the service fee amount as you reach them.
We're talking about a substantial decrease in fees here – the highest rate remains the same at 20% (including GST) but the lowest rate will decrease to 10% – that's a whopping 50% reduction in fees and a 10% increase in your take-home pay.
For more information about the service fee in general, please see our FAQ here.
This article will go into detail about tiered pricing. It answers the following FAQs:
-----------------------------------------------------------------------------
How many tiers are there?
There are 4 tiers. You'll start at Bronze, advance to Silver, then to Gold, and ultimately could reach Platinum. You can see the rates and levels below.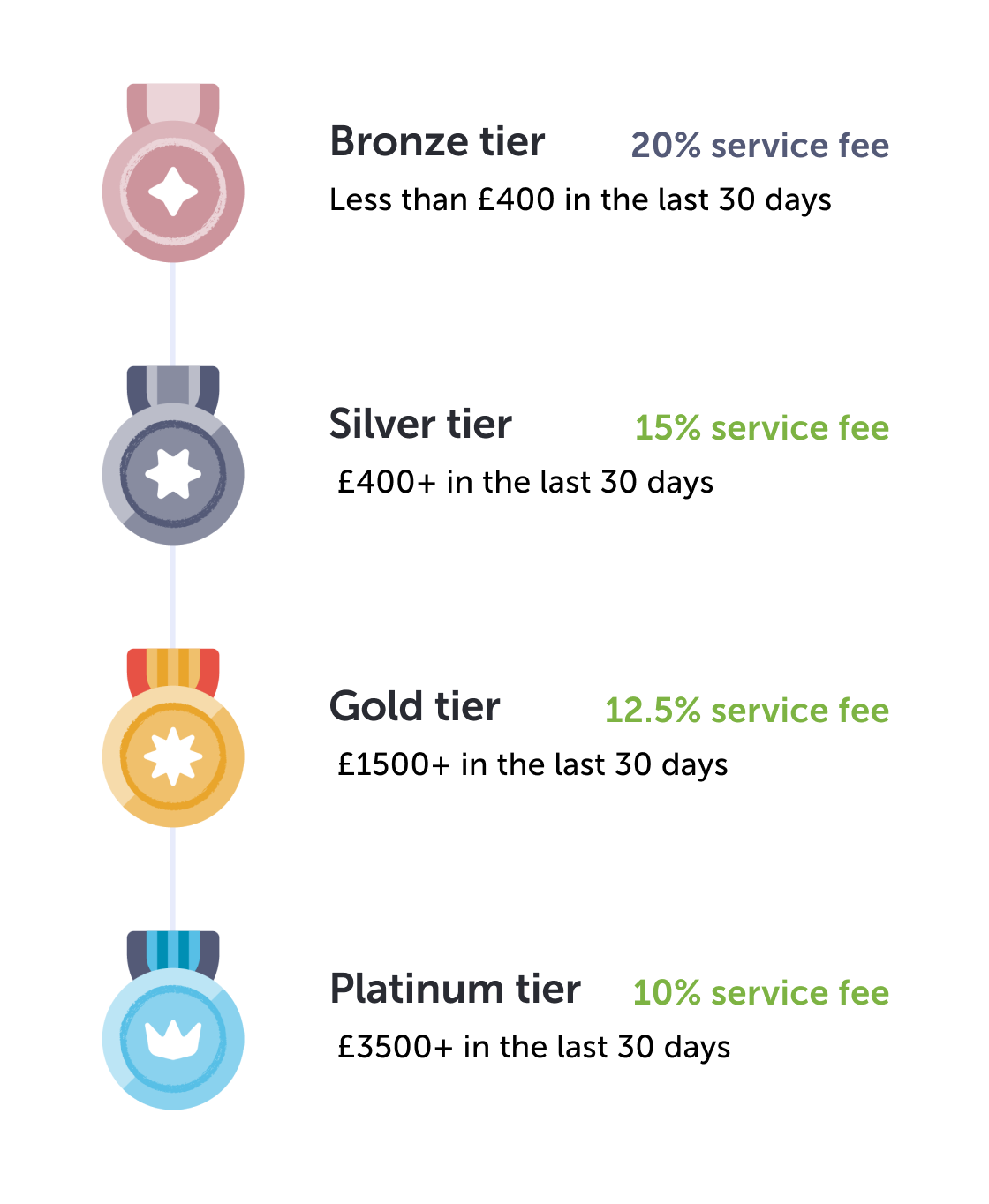 Ireland Taskers: please note that the above percentages and tier levels apply to Ireland, with the same amounts in Euros. E.g. Bronze tier applies to earnings up to €400.
How does the calculation work?
The tier you belong to is based on how much you've earned over the previous 30 days.
Every time a Poster releases payment to you, the amount is added to your total earnings and will count towards your tier for the next 30 days. The calculation does not include payments of tasks in progress where the payment is not yet released.
Please note: your service fee rate is locked in at the time you make an offer. For example, if you make an offer on a task while on the silver tier and then progress to a gold tier, that original offer will remain silver.
If an offer you are currently making would put you into a higher tier, we'll lock in the higher tier's fee rate for that task too.
What does tiered pricing mean for me?
For most people, this will mean a significant decrease in your service fee and an increase in your take-home pay.
It also means that your fee rate is subject to change. Keep track of your earnings on the Make an Offer screen and remember that whatever rate you make an offer at will be the one applied if you're assigned.
Will I be disadvantaged as a part-time Tasker?
Our research shows that by far the most important factor to win a task is how fast you make an offer and the quality of your reputation. Reputation quality is influenced by your star ratings, completion rate and the professionalism of the offer made. Because all of these things are within your control as a part-time Tasker, the changes to the pricing shouldn't affect the way you use Airtasker.
Where can I find what tier I am?
You can see your tier and current earnings in the Make an offer screen of each task. Each offer you make will show your potential tier and fee rate if you were to win the task, so this is the best place to check.
Remember, your fee rate is locked in at the time you make an offer and won't change later if you're assigned. Be sure to take note of this so you know what to expect.
Can other people see my tier?
No - your tier is private and only viewable to you. Other members (both Posters and Taskers) won't be able to see your tier or your current earnings.
Why did Airtasker change the fee structure?
You may be aware of some changes we made in 2018 for discounted fees on high-value tasks. Although these were received well by Taskers completing these types of tasks, it didn't help those Taskers who were doing a large number of smaller value tasks. To try and make sure it's fair for both groups, we're applying discounted fees on total earnings instead of earnings for a single task.
More broadly, one of the biggest challenges we face running a growing technology platform is to understand how best to invest our resources. All fees get reinvested straight into the business so that there are more and more tasks to be won and so that we can continue to improve the customer experience for Taskers and Posters.
We have big ambitions for this in 2019 which requires significant investment in our engineering, marketing, design and support teams. We have actually spent much, much more in building and growing the marketplace to provide more jobs for Taskers than we have received in fees, with the difference coming from external investors.
How does this change affect Airtasker's financials?
This tiered pricing will actually decrease Airtasker's total revenue (even after accounting for the recent decreases to pricing for high-value tasks). We've deliberately made the decision to lower our fee rate because we want to invest in you, our Tasker community, to make sure that Airtasker is the best platform for you to find work.
Are there going to be more changes?
We're constantly evaluating how our fees are structured to make sure that they're fair to everyone – Taskers and Posters alike. Please feel free to reach out to fees@airtasker.com if you have any feedback or suggestions.