To help operate and grow the Airtasker marketplace, a service fee is charged. The service fee is a percentage of the assigned task price, which is the amount of the offer accepted by the Poster. Once a task has been completed, the fee will be deducted from the task payment before it is paid into the Tasker's account.  
The percentage fee ranges from 10% to 20% including VAT. The actual fee depends on a number of factors including task price. The actual fee charged on each task will be displayed before you confirm your offer, so you are never in the dark!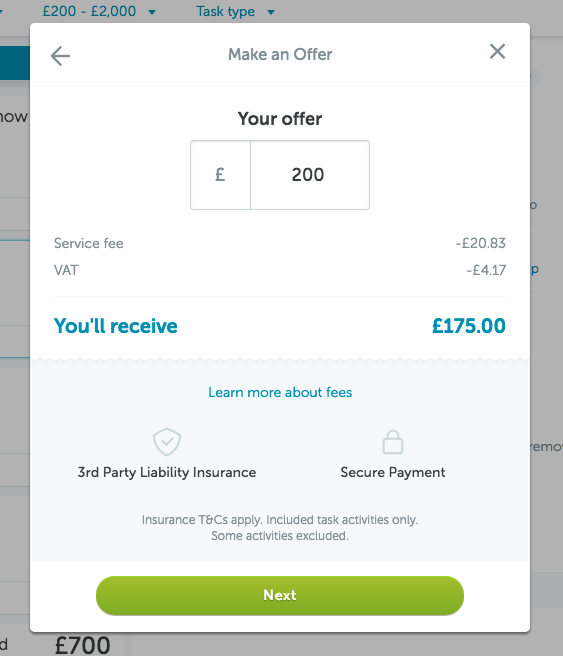 We value transparency at Airtasker, and know that our members do too. We've put together this FAQ guide to help you further understand the service fee.  
How is the service fee calculated?
We know that not all tasks are the same, so the service fee shouldn't be static either. As the task value increases, the fee rate will decrease, so you'll be paying less for the bigger tasks.
That's why you might notice different fee rates on different tasks and offer amounts. All rates are also subject to VAT. 
How can I tell what my service fee is?
When you make an offer on a task, the full breakdown of the service fee will be displayed so you can make sure the task is right for you. This will also be where you'll see any VAT payable. 
You can look back at your payment history in your account at any time for a specific breakdown of the fee for each task you've completed.
What does the service fee apply to?
A service fee is charged for all transactions made through the Airtasker platform. Please be aware that this includes price increases and bonuses.
How do I reduce my Airtasker fee?
The higher the task value, the more varied your fee rate can be. This is the same for every Tasker, so there's an equal playing field for all members.
How do I pay the service fee?
The fee will only be applied once you've been assigned to the task - if you don't win the work, you won't pay.
After the task has been completed and the Poster releases payment, you'll then receive the task payment, minus the service fee.
What happens if the task I'm assigned is cancelled?
If a cancellation occurs, the task service fee may still be charged. For more information about this, please see our article about cancellations here.
Have a not so frequent service fee question? Get in touch to ask us here