Just so you know, this information applies within Australia ONLY.
In a nutshell, the Tasker tier is a way to acknowledge Taskers, who consistently add value to the community and uphold our Tasker principles, with lower service fees.


What are the Tasker tiers and how does it work?
There are 4 tiers: Bronze, Silver, Gold and Platinum. The higher tier you are on, the less you pay in fees. Excluding GST, the highest rate is 20% and the lowest rate is as low as 11.90%.
Each tier level will have a minimum requirement for:
Your Completion Rating (different to Completion Rate), i.e. how well you've upheld commitments in your 20 most recently assigned tasks. Please refer to Completion Rating to know more.
Your past 30-day Earnings, i.e. how much you've earned over the previous 30 days
You'll need to meet both requirements to move into the corresponding tier.
How can I track my tier progress?
You'll be able to track your Completion Rating, 30-Day Earnings and Tasker tier on the My Tasker Dashboard screen. You can find this by going to the More menu > My Tasker Dashboard on the Airtasker app or website.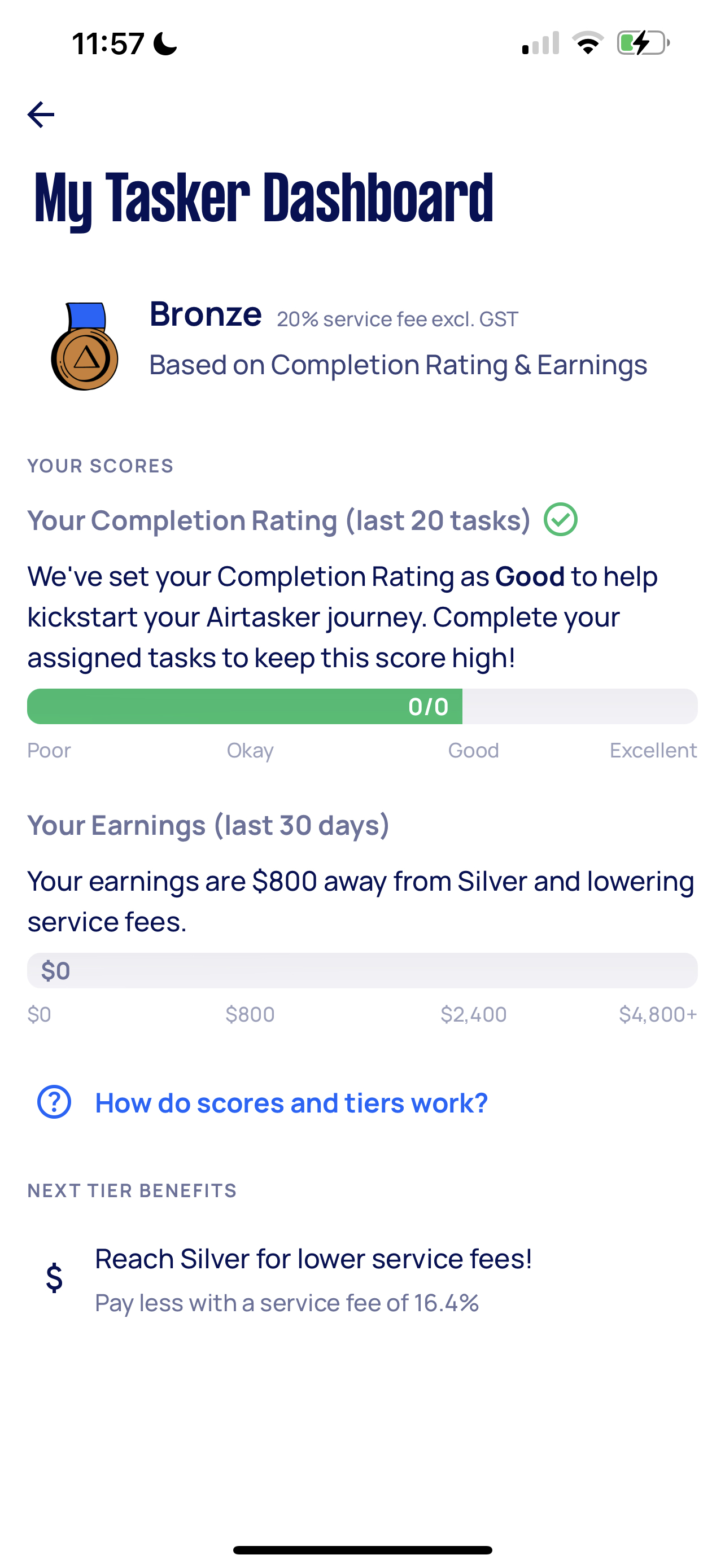 Can other people see my Tasker tier, 30-day Earnings, and Completion Rating?
Others can't see your Tasker tier, 30-day earnings, or Completion Rating. It's private, visible only to you.

Will I be disadvantaged as a part-time Tasker?
No, part-time Taskers won't be disadvantaged. Our reseach shows that task success primarily depends on offering speed and reputation quality, influenced by star ratings, completion rate, and professional offers. As a part-time Tasker, these factors are within your control, so pricing changes won't impact your use of Airtasker.
Where can I give feedback?
Your feedback is really important to us in making sure we're creating a fairer and stronger community. Let us know your thoughts here – the good and bad and any suggestions or questions – we want to hear it all.
Disclaimer: You, or other Taskers, may receive more favourable terms, on a temporary basis, as part of regular randomised fee studies that Airtasker conducts.