Please note: This information applies within Australia ONLY.
In a nutshell, Tasker tiers, otherwise known as Tiered Pricing, is a way to acknowledge Taskers, who consistently add value to the community and uphold our Tasker principles, with lower service fees.

Tiered pricing has 4 levels (or "tiers") – the higher the tier, the lower the service fee. Excluding GST, the highest rate is at 20% and the lowest rate is as low as 10%.

For more information about the service fee in general, please see our FAQ here.

This article will address the following questions about how Tasker Tiers work:
What are the Tasker tiers and how does it work?
There are 4 tiers: Bronze, Silver, Gold and Platinum. The higher tier you are on, the less you pay in fees. Each tier level will have a minimum requirement for:
Your Completion Rating (different to Completion Rate), i.e. how well you've upheld commitments in your 20 most recently assigned tasks

Your past 30 day Earnings, i.e. how much you've earned over the previous 30 days
You'll need to meet both requirements to move into the corresponding tier.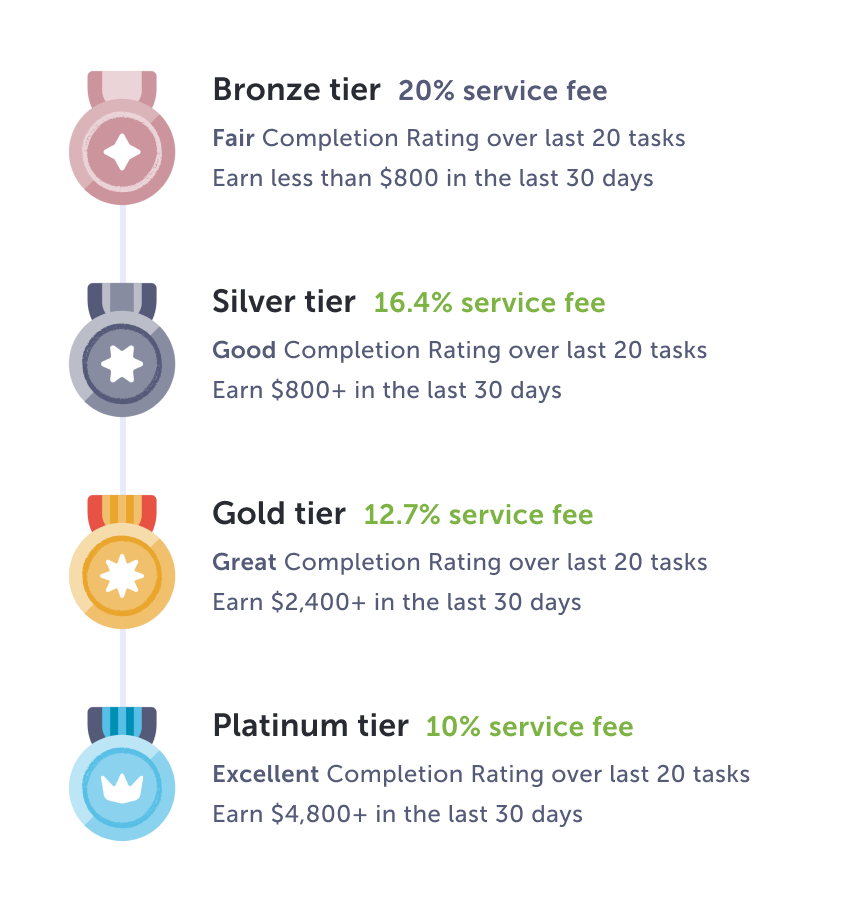 Where can I track my tier progress?
You'll be able to track your Completion Rating, 30 Day Earnings and Tasker tier on the My Tasker Dashboard screen. You can find this by going to the More menu > My Tasker Dashboard on the Airtasker app or website.
What is my "Completion Rating"?
Your Completion Rating is a reflection of how well you've upheld commitments in your 20 most recently assigned tasks. It's determined by comparing all your most recently completed tasks with all your most recently cancelled tasks in a way that includes a reasonable buffer for unavoidable cancellations (because life happens!)
A Completion Rating can currently fall into one of the four levels: Fair, Good, Great, and Excellent. The more tasks you complete out of your most recently assigned tasks, the better your Completion Rating becomes.
How is "Completion Rating" different to "Completion Rate"?
The current completion rate is the percentage of completed tasks out of all the tasks that you've ever been assigned to and factors in a portion of all your cancelled tasks. It is viewable by Posters and other Taskers.
This is different to the new score, i.e. Completion Rating, which is a rating that's based on your 20 most recently assigned tasks including completed and cancelled tasks, and also factors in a buffer for unavoidable cancellations. This will currently be viewable by only you.
Will all cancellations be counted towards my Completion Rating?
All cancellations over your most recently assigned tasks will be factored into your Completion Rating. However, the Completion Rating is calculated in a way that allows for a buffer for unavoidable cancellations (because life happens!).
What can I do to keep my Completion Rating score high?
To keep your Completion Rating score high, here are some things you can do:
Be explicit with your availability when making offers


Manage expectations early and avoid scheduling issues with the Poster after you've been assigned.




Give yourself a time buffer between tasks to cater for unexpected delays


Allow time for travel and potential delays especially with complex tasks.




Keep track of when your assigned tasks are booked for


You can see a list of your assigned tasks with the 'Assigned' filter on

My tasks

. Jot down the dates that you've already been booked for in a planner or calendar and check against it when making offers or rescheduling tasks to avoid double-booking tasks and needing to cancel later.




Withdraw offers that you can no longer fulfil


Avoid getting assigned to tasks you're no longer available. You can do this by tracking the offers you've made with the 'Offered' filter on

My tasks

and withdrawing them by visiting the relevant task page and clicking the "Withdraw" button next to your offer.
Can other people see my Tasker tier, 30-day Earnings and Completion Rating?
No - your tier, current earnings and Completion Rating is private and only viewable to you. Other members (both Posters and Taskers) won't be able to see this information.
Will I be disadvantaged as a part-time Tasker?
Our research shows that by far the most important factor to win a task is how fast you make an offer and the quality of your reputation. Reputation quality is influenced by your star ratings, completion rate and the professionalism of the offer made. Because all of these things are within your control as a part-time Tasker, the changes to the pricing shouldn't affect the way you use Airtasker.
This is different to the tiered pricing structure prior to March 2021. Why the changes?
At Airtasker, we're committed to building a community that is fair, trustworthy, and is a positive experience for all. In the past year, we've heard a lot of feedback from Taskers and Posters on how we can achieve this.
A resounding theme is the need to recognise Taskers who consistently deliver a reliable customer experience and honour their commitments to tasks they've been assigned to – a key pillar of our Tasker Principles.
These changes to how tiers are calculated are in response to this feedback and a step forward in acknowledging that the service quality a Tasker delivers is vital in making Airtasker a better and fairer experience for all.
Where can I give feedback?
Your feedback is really important to us in making sure we're creating a fairer and stronger community. Let us know your thoughts in this feedback form – the good, bad, any suggestions or questions – we want to hear it all.