Afterpay is an optional Buy Now, Pay Later payment service.
Taskers have the option to include this in their offer and in turn, allows Posters to spread their payments over four (4) fortnightly installments. Although Posters pay over time, Taskers are paid in full upon completion of the task.
Here's how it works:
Step 1: A task is posted
Step 2: Tasker makes an offer and adds Afterpay for the Poster
Step 3: Poster accepts the offer
Step 4: Poster chooses Afterpay as a payment method
Step 5: Poster pays in 4 easy installments to Afterpay
Step 6: Tasker requests payment upon task completion and Poster later releases payment
To learn more about how Afterpay in Airtasker works, make sure to visit our FAQs below:
Information for posters
Afterpay is an interest-free payment option that lets you pay in 4 simple fortnightly installments.
How does Afterpay work?
You can choose Afterpay when a Tasker offers it to you. You will see if it's available when the Afterpay badge appears beside their offer.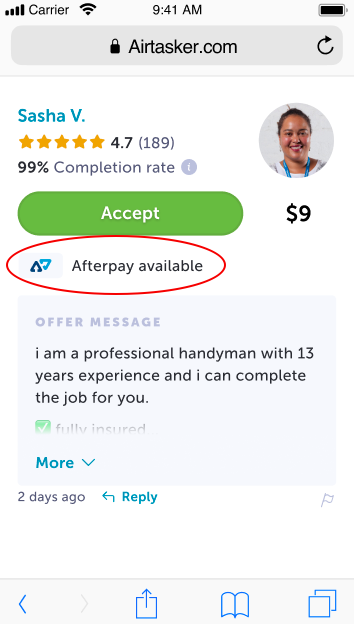 When you choose it as a payment option, you will be guided to the Afterpay portal to complete your payment.
How do I sign up?
The good news is – you don't need to sign-up to use Afterpay in Airtasker.
If you're a first time user and you accept an offer with the Afterpay badge, all you have to do is provide your payment details to complete the transaction. Once the order is approved, your Afterpay account is created.
To know more, make sure to check this helpful article.
Do I have to pay extra when using Afterpay?
Using Afterpay in Airtasker is free.
However, late fees apply when you're unable to meet a scheduled payment. If you feel this is likely, reach out to Afterpay so they can assist you with the next steps.
Why can't I pay using Afterpay?
It will appear on the Posters end only when a Tasker opts-in and offers it to you.
This optional feature can only be used for tasks up to $1450 and it can't be used on Subscriptions and Instant Bookings.
How am I billed for my Afterpay?
Airtasker and Afterpay offer different services with platform and policies entirely separate from each. For all billing and/ or payment queries please contact Afterpay through their customer support.
What if I miss a payment?
Afterpay is interest-free. However, if you miss a scheduled payment,you can incur late fees. If you have any outstanding payment queries, make sure to check this helpful article or reach out to Afterpay's customer support.
What should I consider before accepting an offer with Afterpay?
While it's great to be able to post high-valued tasks, it is in the Poster's best interest to consider their own ability to commit to short-term payment arrangements.
When signing up make sure you meet the following requirements:
Must be 18 years old and above

Must have an Australian credit or debit card

Must have a verifiable email and mobile number

Must be currently living in Australia

Must be able to enter a legally binding contrac

t
What happens if I cancel my task?
Before deciding to cancel, we strongly encourage you to see if there's another way to get the task done. For example, you could change the due date or the task price. For information about making changes to your task, please see our helpful articles here.
However if no agreement is met and cancelling is necessary, please refer to our helpful article for your next steps. Please note that Airtasker immediately sends cancelation refunds to Afterpay, so be sure to contact Afterpay to get your funds back.
Who do I contact if I have problems with my Afterpay payment?
Airtasker and Afterpay are two separate companies governed by separate privacy and security policies. Thus, Airtasker has no means of checking your payment details. However, you can contact them directly through their customer support.


Information for taskers
Afterpay is a tie-up feature where Taskers can choose to opt-in.
Taskers still get their full pay after completion of the task and Posters split their payments into 4 installments.
Why should I offer Afterpay?
Posters who are looking to manage their expenses prefer an alternative payment arrangement. They are likely to post high-priced tasks that would have otherwise been impossible without taking out a loan.
Afterpay users are typically 20% more likely to make a purchase and spend 25% more than buyers using other payment methods. As a Tasker, you can use this to your advantage to win more jobs and earn more on the tasks that you do win.
Where and how can I offer Afterpay

?
Afterpay is available for offers up to $1450. You have the option to switch it on (or off) depending on the task of your choice. This means the option to offer Afterpay is present on each task you vie for.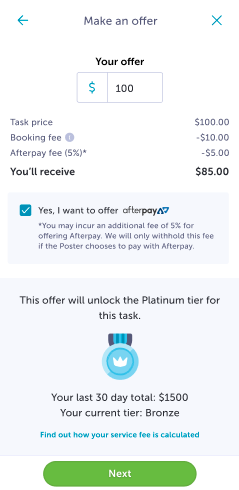 Just opt-in through the Afterpay toggle to enable it and the badge will appear next to your bid, when you do.

How will I know if the Poster chose Afterpay?
Once the task is assigned, you'll be able to see if your Afterpay offer was accepted through the Request Payment page.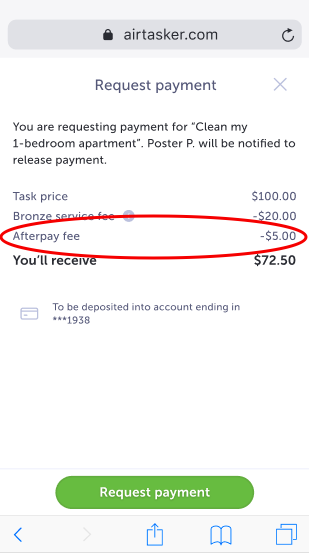 The Afterpay badge will also appear at the task page.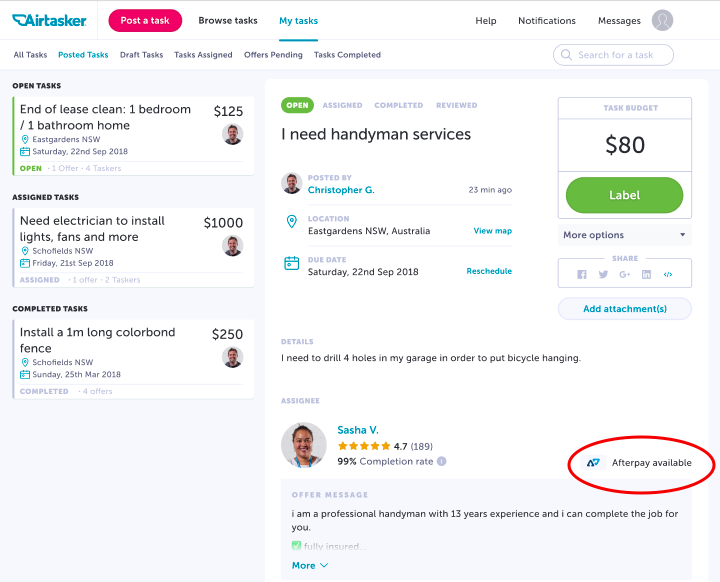 And once the payment is released, it will show in your invoice together with the breakdown of all fees and earnings.

What are the fees when I offer Afterpay?
Afterpay's business model is to charge merchants a fee whenever a consumer chooses to pay using Afterpay. If the Poster chooses to use Afterpay, Taskers are charged 5.90% of the offer amount.
Airtasker consequently wears the cancellation charge for Afterpay; a burden that Afterpay typically imposes on merchants.
Will there be other cost I have to think of?
Tasks paid with using Afterpay are handled just like any other job, and service fees still apply.
It'll be calculated like any normal tasks you make an offer on. For more information about the service fee, make sure to check our helpful article here.
How do I get paid from an Afterpay task?
Once a Poster accepts it, it will work just like any task posted in Airtasker.
While Posters pay in instalments, Taskers are paid the full amount upon task completion. If you click Request Payment, a notification is sent to the Poster and once they agree that the task is complete, they can release the funds soon after. Funds are freed almost instantly to your nominated bank account.
The Poster hasn't released my payment, what do I do?
If the task is complete to the Posters description and they haven't released the payment yet, make sure to reach out to them using the Airtasker platform. To know more on how you can get your payment released, please read through this helpful article.
What if the Poster defaults on their Afterpay payment?
You need not worry because you will not be affected. Any late payment will be handled independently by Afterpay and the Poster.
W

hat if I need to cancel the task

?
Before deciding to cancel, we strongly encourage you to see if there's another way to get the task done. For example, you can suggest for the due date or the task price to be changed. For information about making changes to your task, make sure to check these helpful articles.
Afterpay should not be offered on any purchase that involves or are related to cigarettes and prohibited services outlined in the Airtasker Community Guidelines.